Mon hébergement
Qu'est-ce que c'est?
Mon hébergement est un outil utile. Il est dédié aux utilisateurs qui ne peuvent pas prendre leur décision sur le logement souhaité. Il leur suffit alors d'ajouter autant d'hébergements qu'il leur plaît dans la case puis faire ensuite un choix parmi cette sélection ou il sert aussi aux personnes qui veulent garder des alternatives au cas où l'hébergement qu'ils ont choisi ne soit pas disponible à la période demandée.
Il ne vous facilitera donc pas seulement le choix parmi l'offre d'hébergement proposée, il vous réduira également le temps passé à le choisir. C'est une manière efficace de sécuriser vos plans de voyage et nous vous conseillons de l'utiliser.
Comment le trouver?
Tout d'abord, trouver un logement ou d'autres services sur nos pages web. Vous pouvez le faire soit en cliquant sur l'onglet Recherche d'Hébergement ou vous pouvez choisir parmi les offres du moment, les promotions dans la colonne d droite.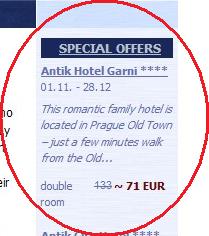 Une fois votre hébergement choisi, afficher les informations détaillées à ce sujet en cliquant sur le lien d'informations détaillées en bas de la page.

Comment l'utiliser?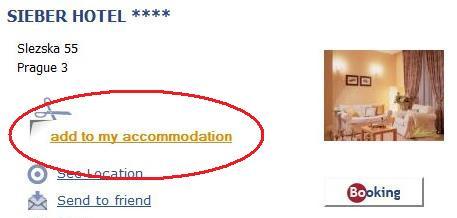 Right below the name of accommodation that you have chosen is a link saying add to my accommodation. By clicking on it you simply add the current accommodation into the container which will occur in the left bottom corner of the screen.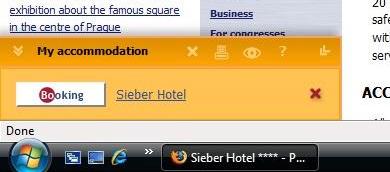 You can add whatever amount of accommodations you like, each accommodation only once though. There is a flag on a website reminding you that that the one is already included in container therefore it cannot be added again unless you withdraw it.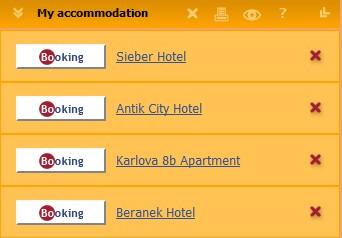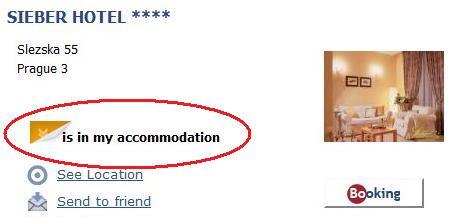 There is a toolbar in the header of my accommodation feature with plenty of functions:

Vertical arrow - hides all items in the container (useful when you have many items in in so it won't block your screen while browsing)
Cross - closes down the container manager
Printer - prepares all your items for printing actions
Eye - shows basic informations about curent items in the container in a browser.
Question mark - displays how-to and help informations
Sideway arrow - resizes and hides my accommodation menu for easy browsing

Content of the container:

Booking tab - enters a website with a booking form, where you will see highlighted name of selected item as well as all the alternative accommodations from the container.
Name of the item - displays thorough informations about selected accommodation
Red crosses at each item - simply removes selected item from the container